So since my last beauty – favorites post has been published it has been a while! Finally it's time to another article from this category! After I shared some of my favorite velvet pieces for the upcoming season, I want to introduce my current beauty essentials to you; those products, which I fell in love with over the last weeks. We all are curious and search for some new stuff we haven't tried before, don't we? So here are my August essentials:
Zeitgard Lip Optimizer
My lips have always been dry and porous; I have had always struggle with wearing lipstick because of that. Since I use the  Zeitgard lip optimizer, these problems are gone! It's just amazing, guys! In addition to the moisturizing effect, it melts on the lips and fills out wrinkles in the lip area from the inside. The products contains sunflower wax, shea butter, acacia wax and vitamin E. I highly recommend it to you, If you have to deal with dry lips and yeah…even regular lip balm or Labello can't help to fix it.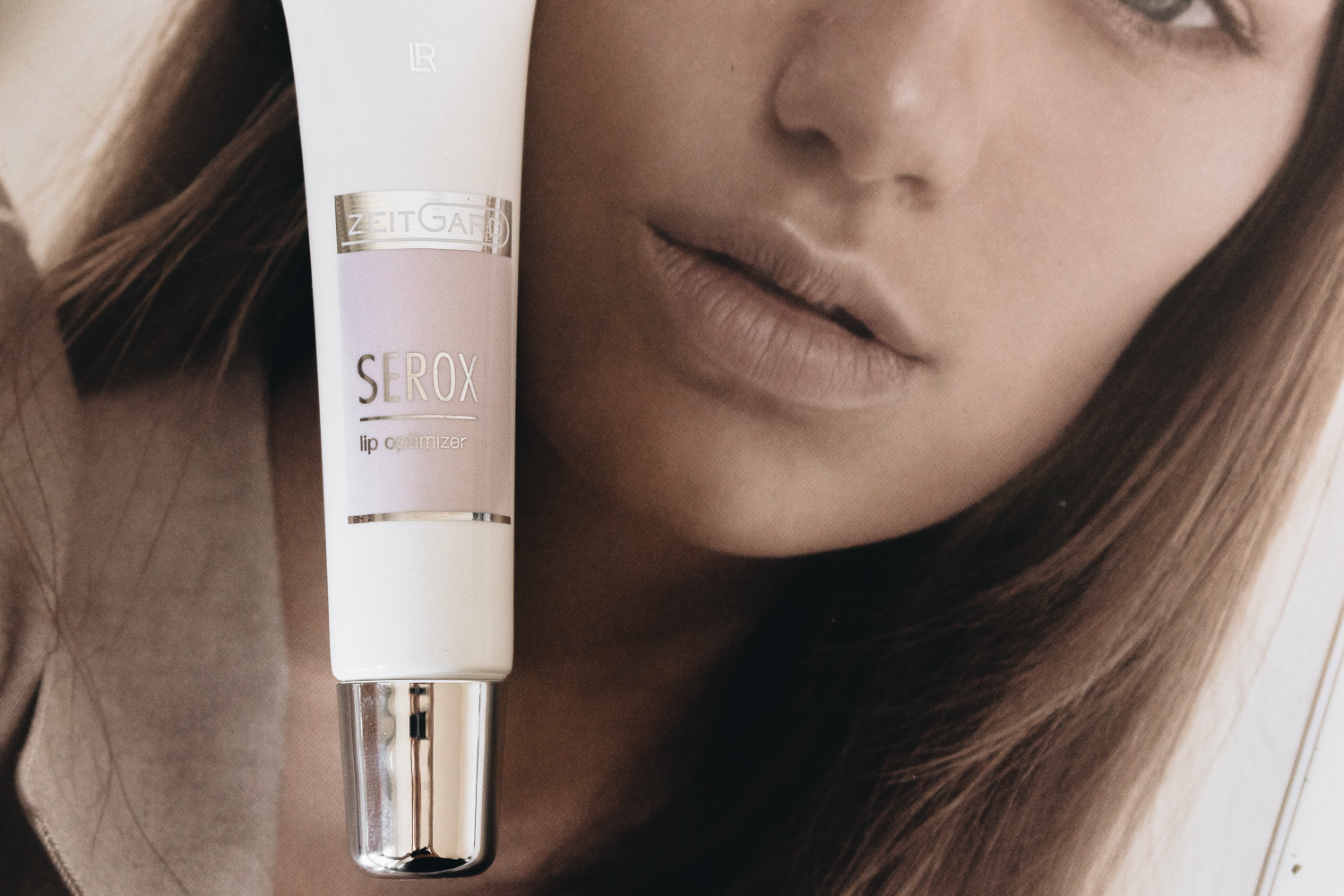 Newsha Deep Repolishing Cream
One day after the 3rd fashion show by Lexus / Voxelword in Düsseldorf last month, I got to know the brand Newsha. The deep repolishing cream is enriched with olive oil and natural keratin and a perfect hair-companion in my… yeah frizzy-hair-war. I use it 2-3 times a week when I wash my hair. In addition to the fact that it penetrates its restorative formula into the hair cuticle, I really like that it can be applied on wet and on dry hair also.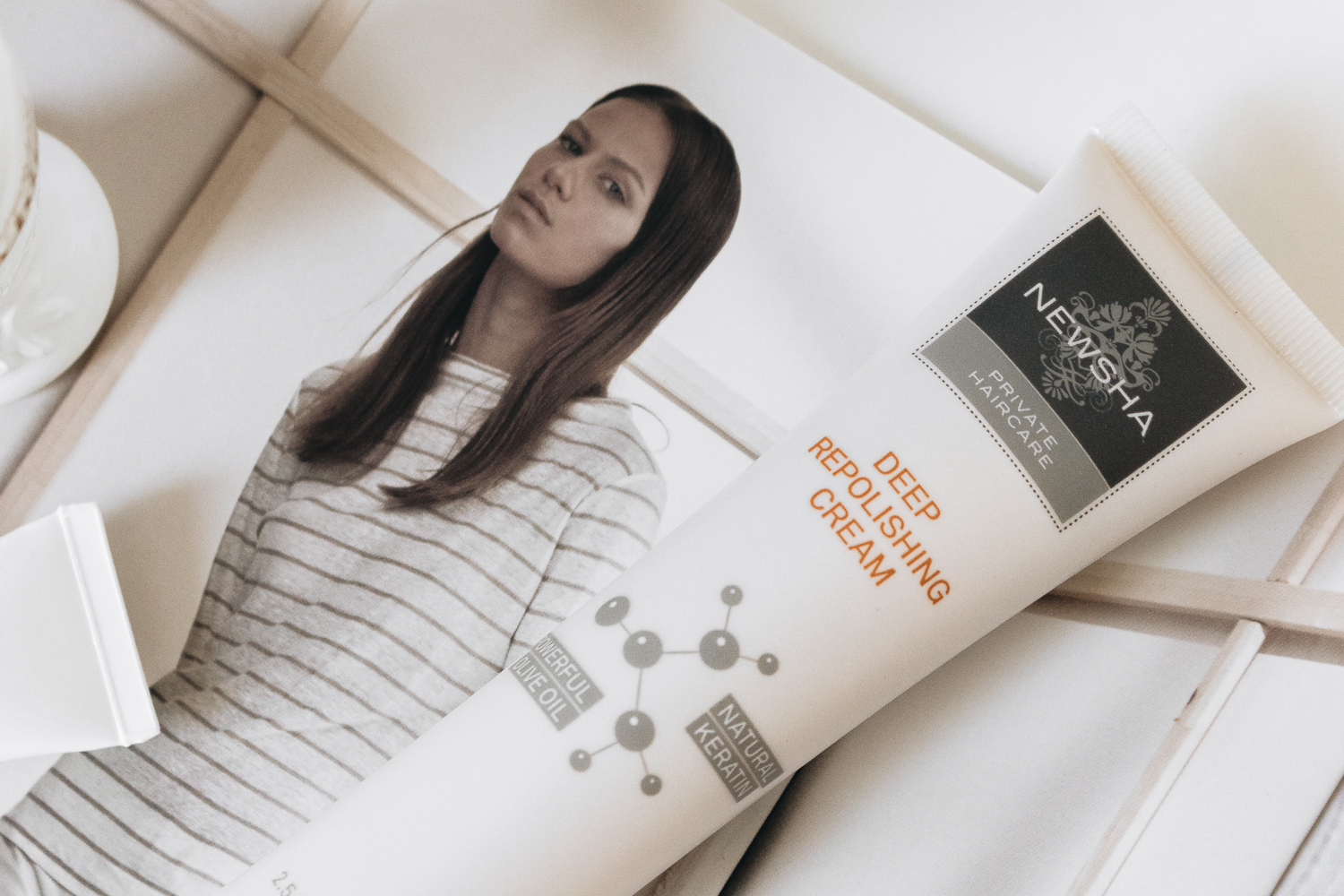 BVLGARI Body Lotion
Do you know that behavior when you are insecure about using a beauty product because it's maybe a little bit expensive to buy or it has some emotional value to you? That's the story of my BVLGARI Eau Parfumée Au Thé Rouge body lotion! It was a gift of my love Denis and I don't know… it took me month to start using it! The luxurious lotion brings a sensual  red tea fragrance to the daily beauty ritual. The warm, woody notes let my think of a beautiful evening with my love at home, maybe cuddling in candelight or something like that. Sorry, but I like couple-kitsch!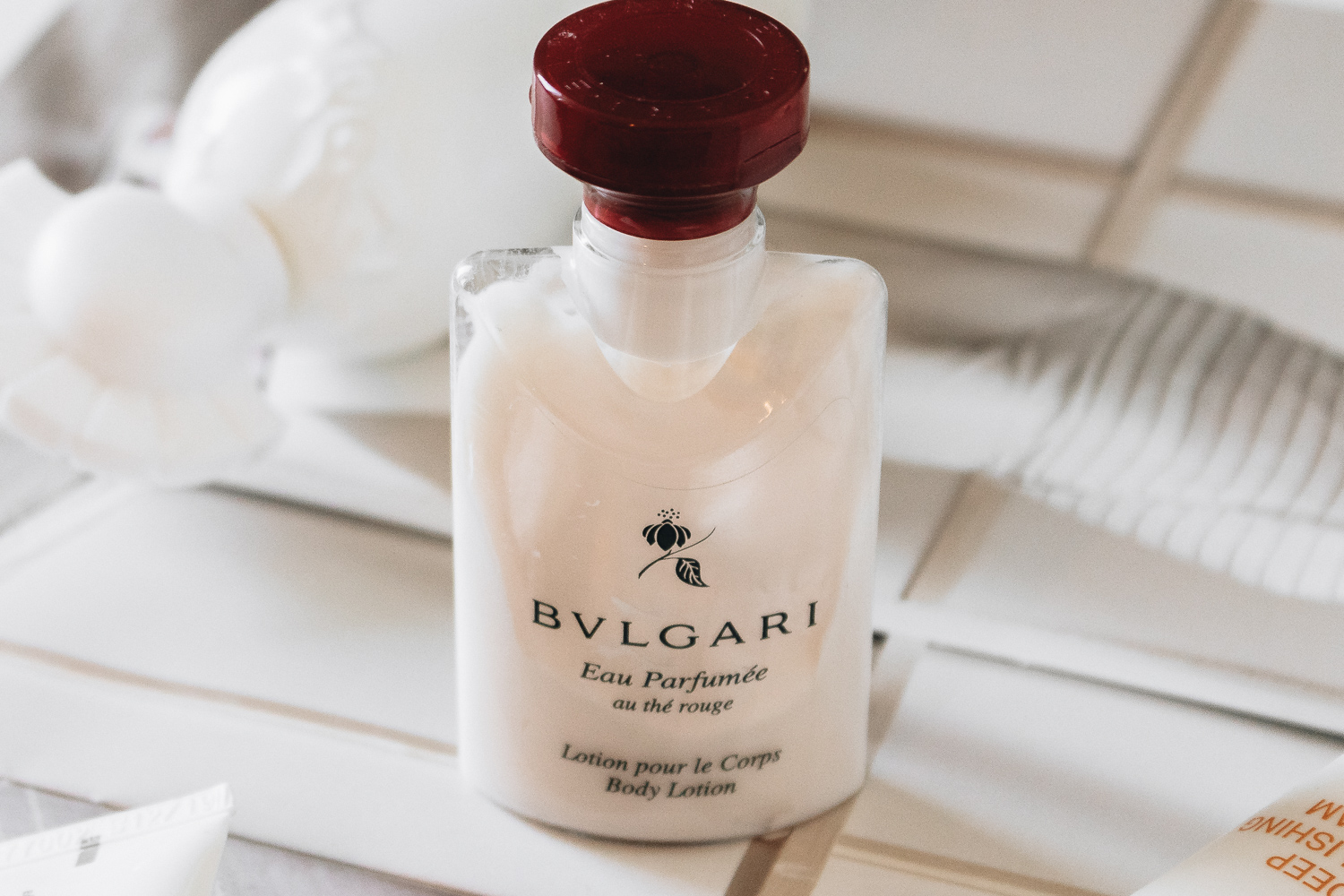 Varensia White Eu de Parfum
Let us stay in the world of smell. Varensia White is available since 2014, so not a new fragrance. The head marks are neroli, apple and peach; The heartnotes are tuberose and orange blossom; The basic notes are tonka bean, sandalwood, vanilla and musk. After the 4711 event I wanted to try some fragrances that are new to me – don't matter which brand or age. About this one I don't only love the nice and soft smell, the flacon is beautiful as well, isn't it? So I these are my beauty essentials for August! Don't forget to save them via Pinterest If I got you curious about them 🙂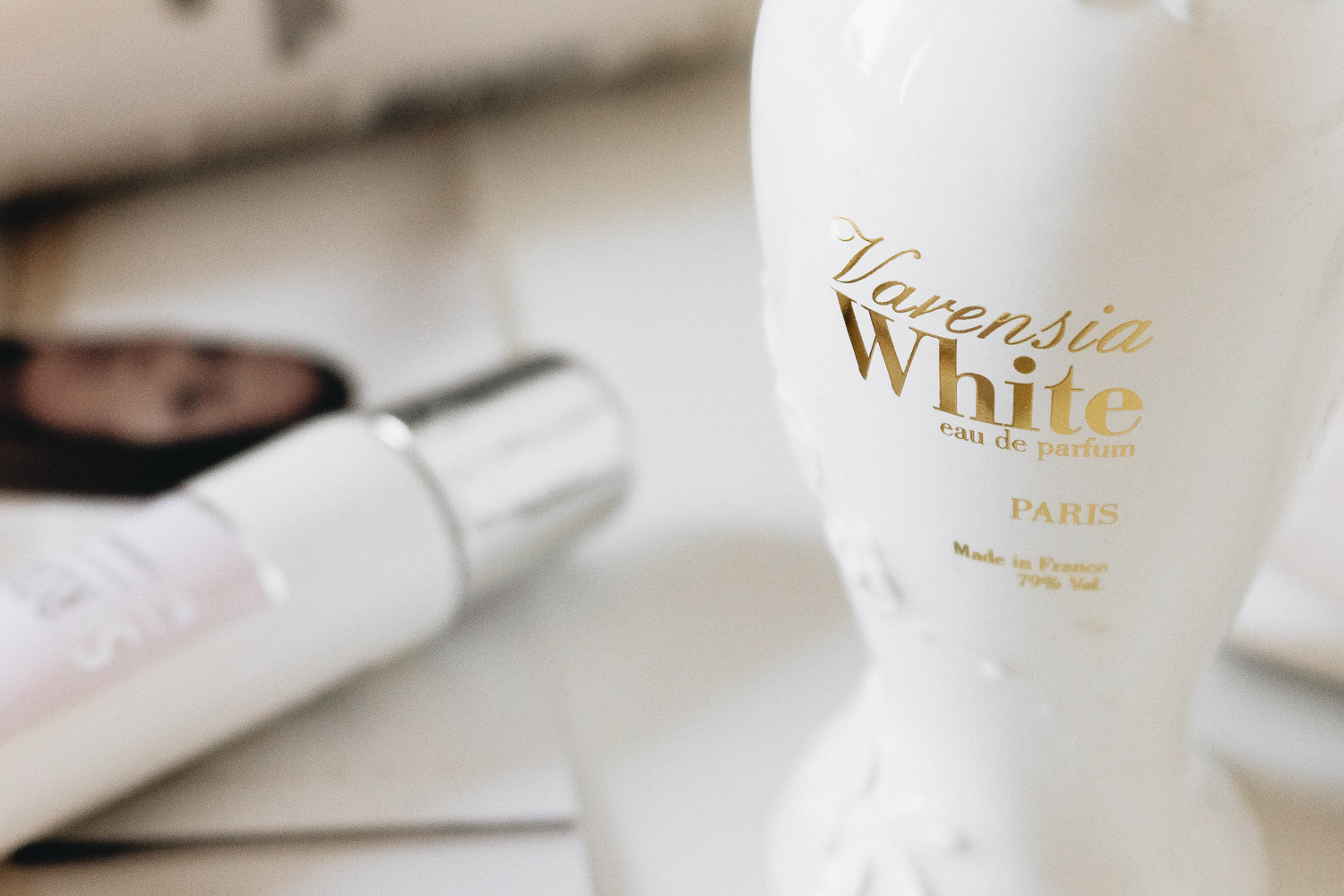 SAVE VIA PINTEREST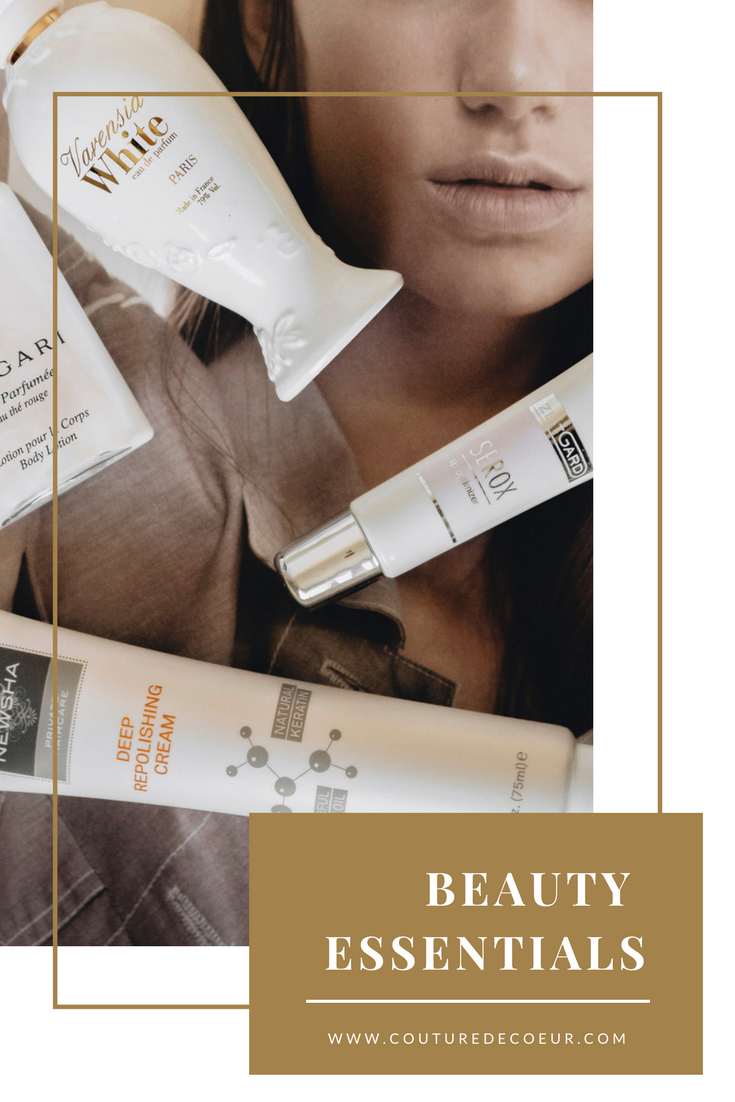 Thanks for reading
So, mein letzter Beauty Favoriten Post ist schon eine gute Weile her! Endlich kommt ein neuer Beitrag dieser Art! Nachdem ich euch ja bereits meine Lieblingspieces aus Samt für die bevorstehende Saison gezeigt habt, möchte ich euch die Beauty Essentials vorstellen, in die ich mich über die letzten Wochen verliebt habe. Wir suchen doch alle von Zeit zu Zeit nach Produkten die wir noch nicht selbst ausprobiert haben und sind neugierig, nicht wahr? Also, hier sind meine Lieblinge für den August:
Zeitgard Lip Optimizer
Meine Lippen waren schon immer trocken und porös, deshalb hatte ich immer Schwierigkeiten mit Lippenstift. Aber seitdem ich den Lip Optimizer von Zeitgard benutze, sind diese Probleme verschwunden. Es ist einfach der Wahnsinn, Leute! Neben dem pflegenden Effekt, schmilzt er regelrecht auf den Lippen und füllt die Fältchen und Risse quasi von innen aus. Das Produkt enthält Sonnenblumen Wachs, Shea Butter, Acai Wachs und Vitamin E. Ich kann euch den Lip Optimizer nur ans Herz legen wenn ihr Probleme mit trockenen Lippen habt und … ja, sogar Labello und "normaler Lip Balm" euch nicht hilft.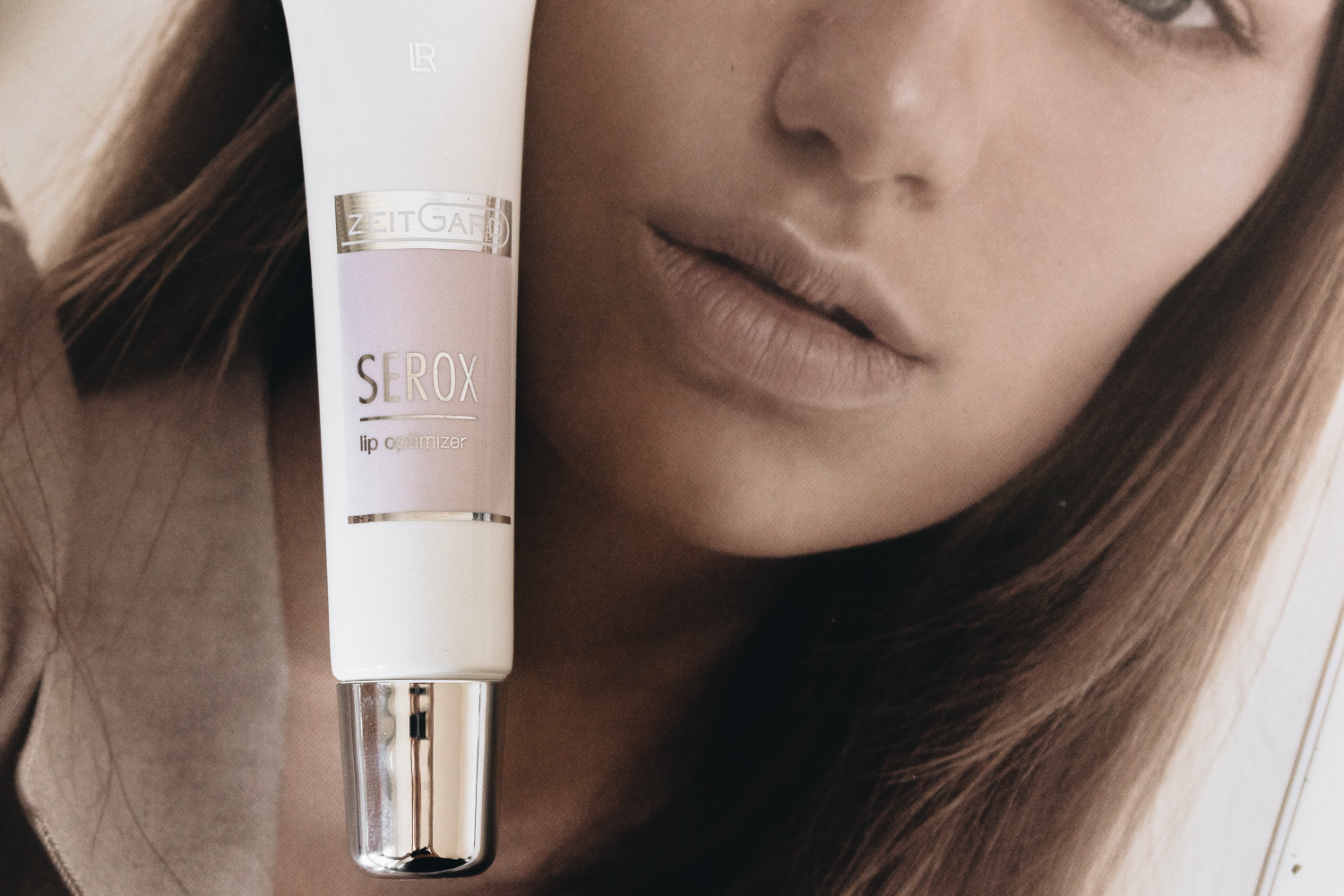 Newsha Deep Repolishing Cream
Einen Tag nach der  3rd Fashion Show by Lexus / Voxelword in Düsseldorf letzten Monat, habe ich die Marke Newsha kennengelernt. Die Deep Repolishing Cream ist angereichert mit Olivenöl, enthält natürliches Keratin und ist mein perfekter Partner in meinem … Kampf gegen Frizz! Ich benutze die Cream 2-3x in der Woche wenn ich meine Haare wasche. Durch ihre Formel dringen die Wirkstoffe bis in die Kutikula des Haares ein. Außerdem mag ich an ihr sehr dass sie sich sowohl auf nassem ans auf trockenem Haar anwenden lässt.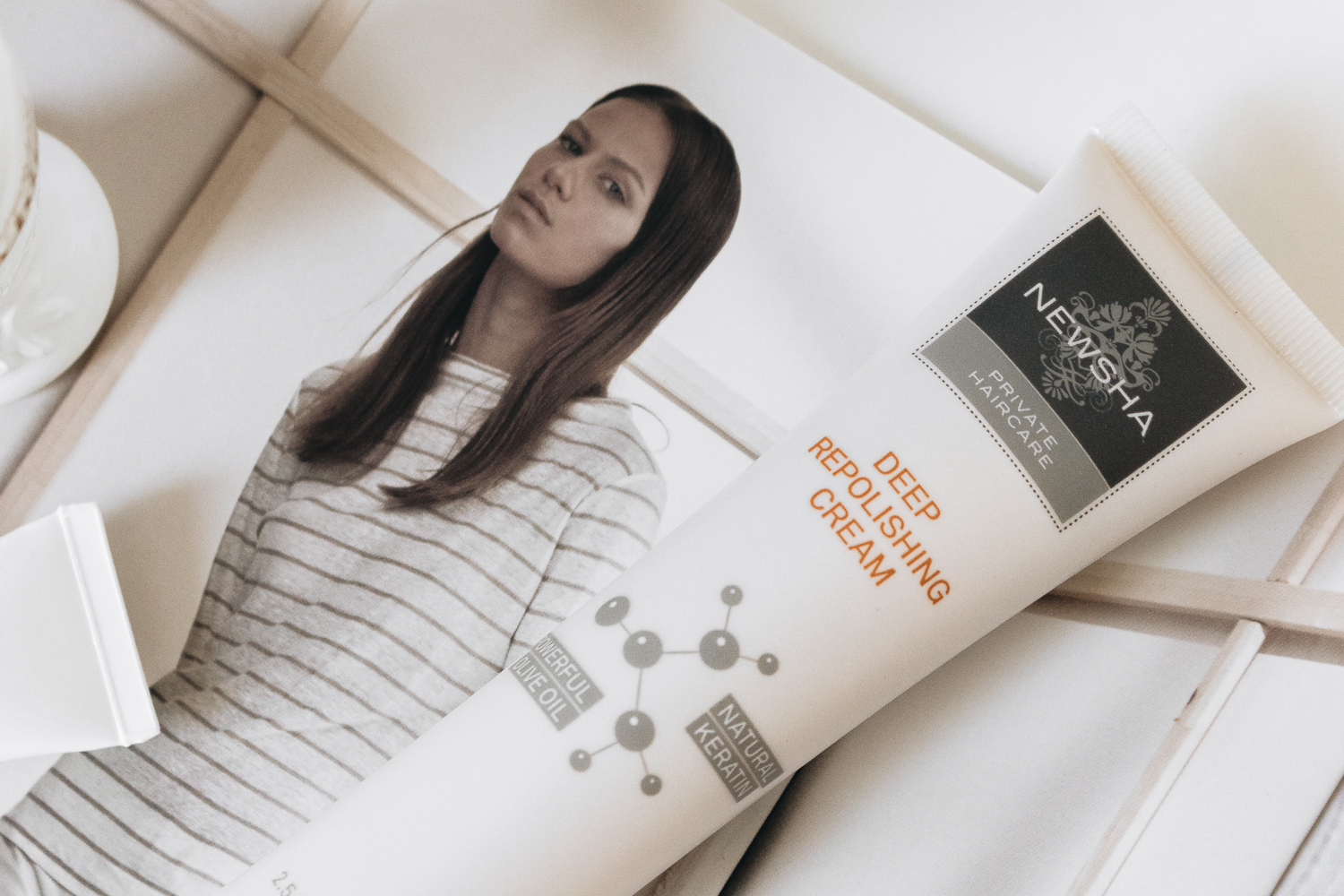 BVLGARI Body Lotion
Kennt ihr dass, wenn ihr irgendwie unsicher im Produkt – benutzen seid weil es vielleicht ein bisschen teurer war oder es einen emotionalen Wert für euch hat? Ja, das ist auch die Story meiner BVLGARI Eau Parfumée Au Thé Rouge body lotion! Sie war ein Geschenk von Denis… und ich weiß nicht, es hat mich einfach Monate gekostet, bis ich sie zum ersten Mal benutzt habe! Die luxuriöse Lotion pflegt die Haut mit dem Duft von Rooibos Tee und macht sie unglaublich zart. Bei dem warmen, holzigen Duft muss ich immer direkt an einen gemütlichen Abend mit Zuhause denken, mit kuscheln bei Kerzenlicht oder so etwas. Sorry, aber ich mal einfach so einen Pärchen-Kitsch!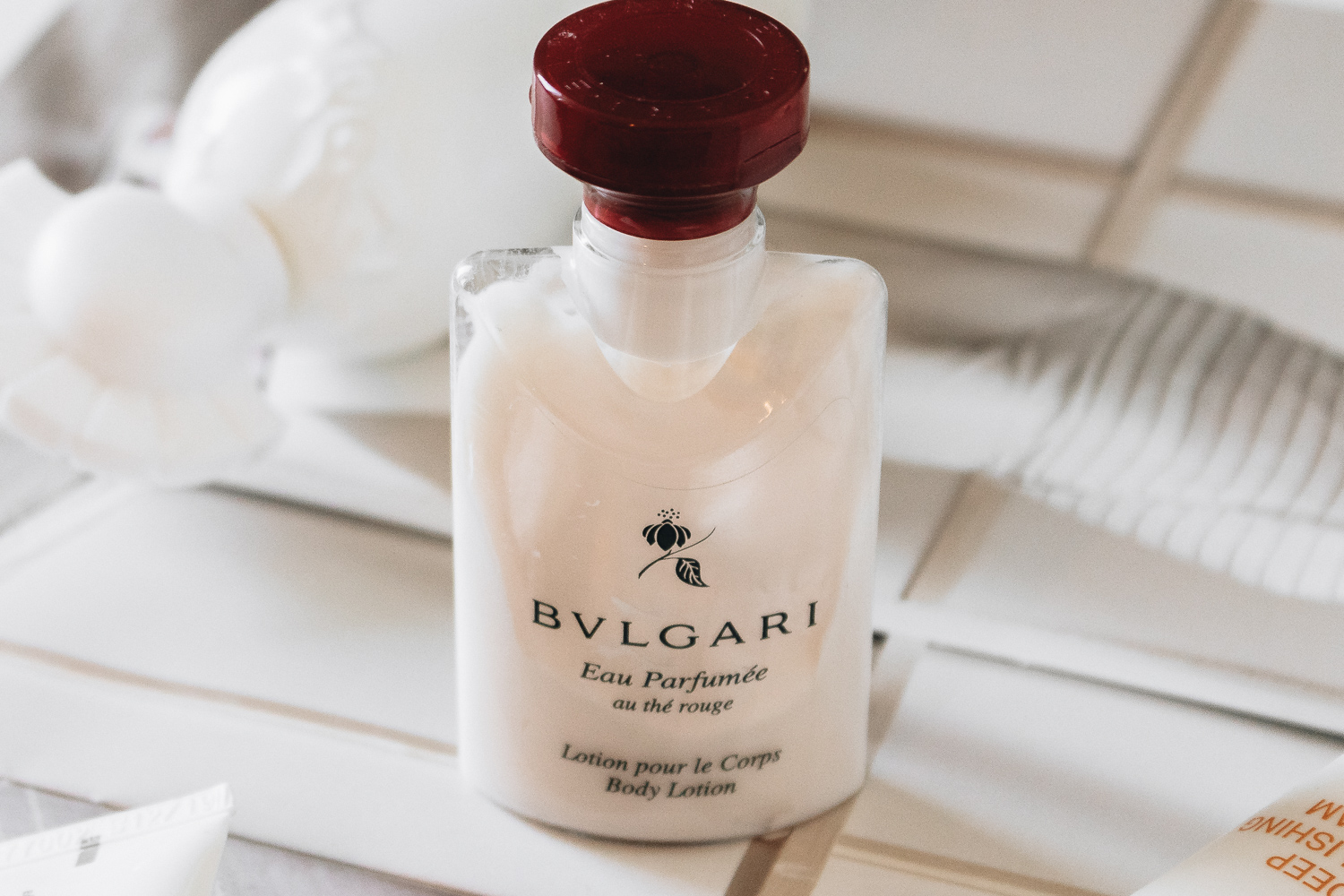 Varensia White Eu de Parfum
Lasst uns in der Welt der Düfte bleiben. Varensia White gibt es schon seit 2014, es ist also kein neues Parfüm. Die Kopfmarken sind Neroli, Apfel und Pfirsich; die Herznoten Tuberose und Orangenblüten; die Grundnoten Tonkabohne, Sandelholz, Vanille und Moschus. Nach dem 4711 Duftdinner Event habe ich angefangen ein paar mir neue Düfte auszuprobieren – unabhängig von Marke und Alter. An diesem hier gefällt mir nicht nur der Geruch; der Flakon ist auch wunderschön, findet ihr nicht?! …. Und das waren sie auch schon,  meine Beauty Essentials für den August! Vergesst nicht den Beitrag via Pinterest zu speichern, wenn ich euch neugierig machen konnte!  🙂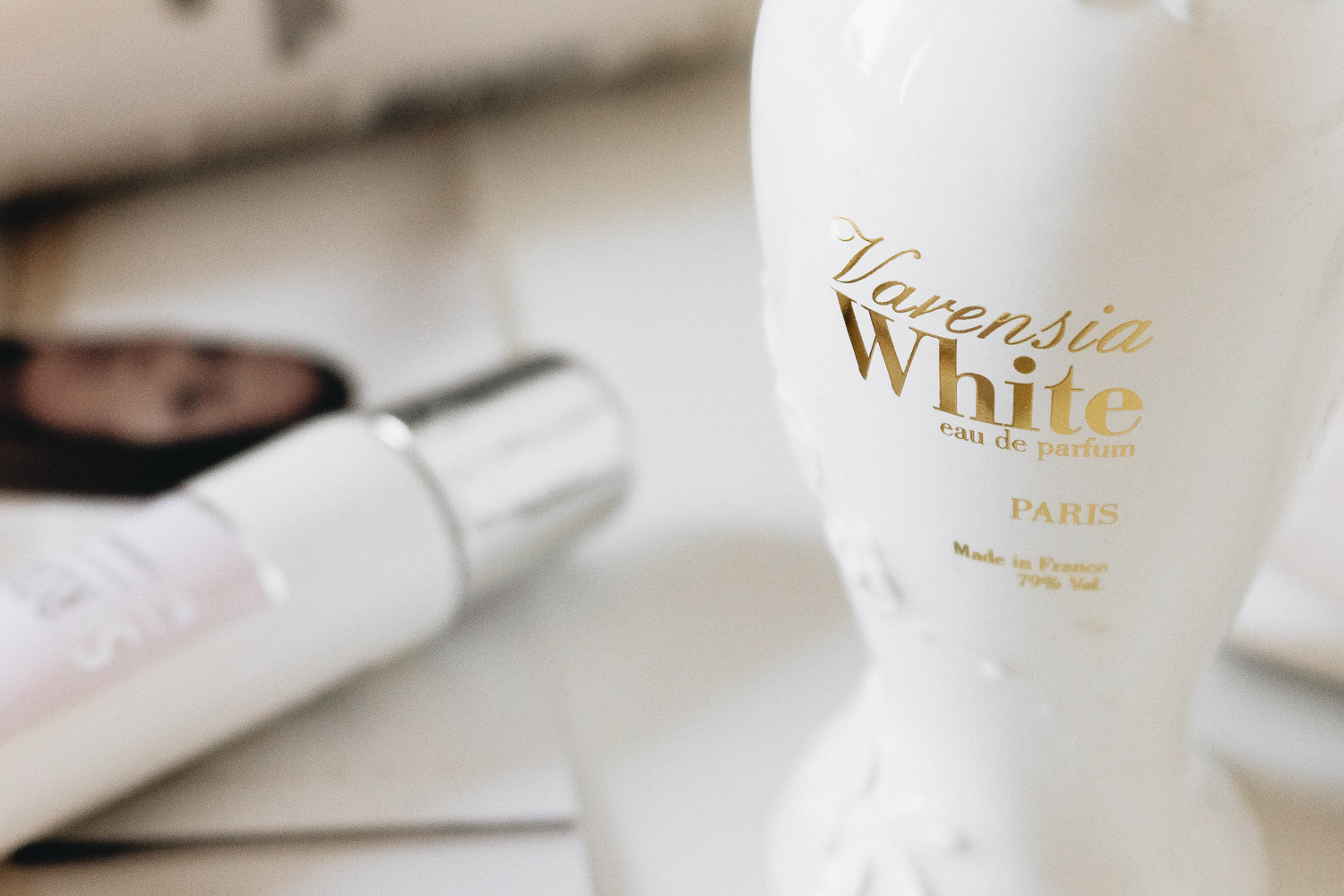 SAVE VIA PINTEREST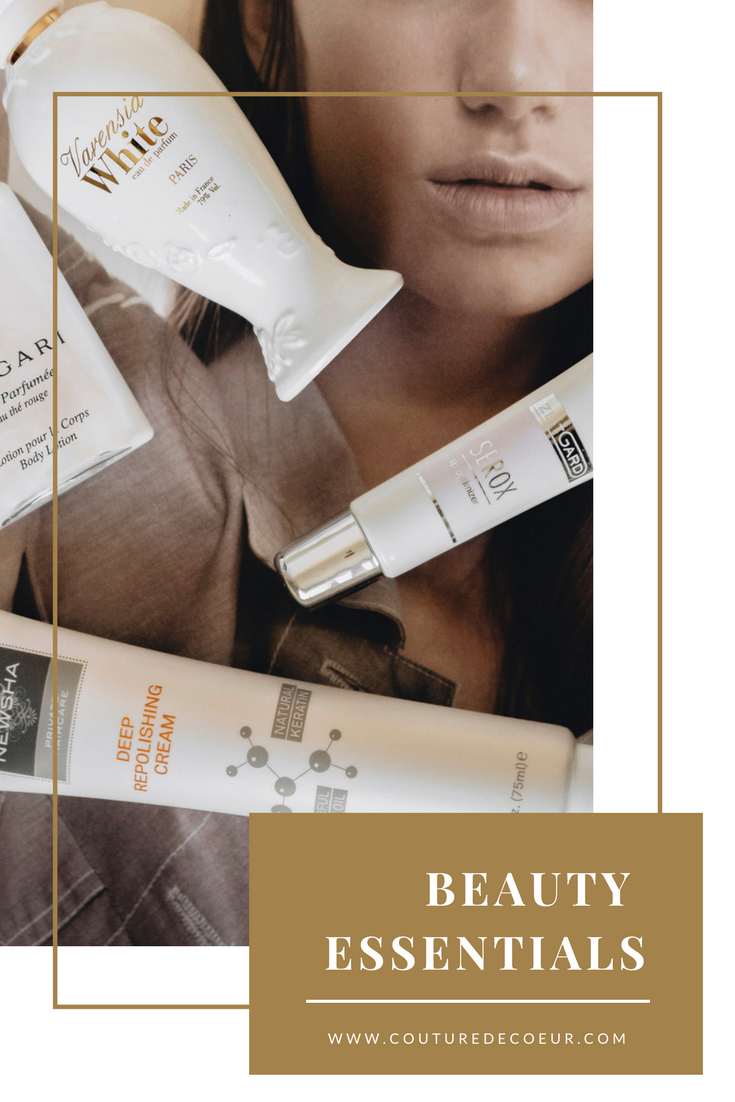 THANnks for reading